New default AIRAC cycle 1804
By courtesy of Navigraph, provider of flight simulator AIRAC and navigation charts, we are able to include a more recent AIRAC in the default FSXPilot installation file.
The collection of files defines the number and position of NAV targets, airports, runways, SID and STARS. Cycle 1804 is a snapshot of the world situation in March 29th 2018. 
If you need the very latest AIRAC please purchase individually or as a subscription (highly recommended) from Navigraph. 
Important note: If you want to make use of 1804 (from the year 2018) you need to redownload and install the FSXPilot installer. 1804 will not be distributed via the update system, because some pilots may already have newer AIRAC versions on their hard drive.    
Thanks, Richard, for providing 1804 to the community!  

Cooperation with Navigraph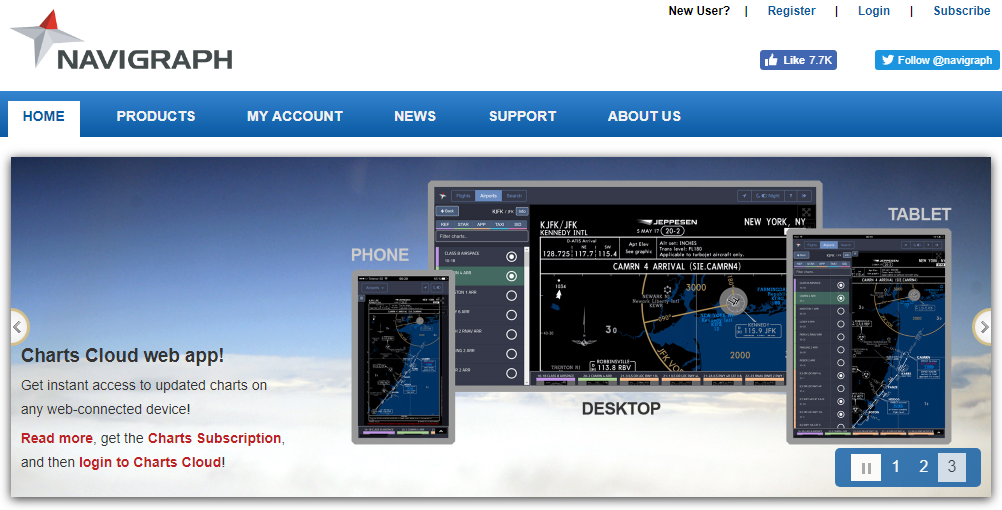 Today we have good news for you. Navigraph, one of the worlds leading provider of simulation charts and AIRACS, has implemented FSXPilot in their online and offline AIRAC updater.
For you, as an FSXPilot user, this means that you will be able to purchase and download the latest AIRACS with the click of one button. If you are a Navigraph subscriber, FSXPilot will be displayed in the addon list of the Navigraph update tool and AIRAC data will automatically copy to the right folder on your hard drive. 
The new functionality will be available for the upcoming AIRAC 1904 which should be out this week. We will have to push a minor update from our side to enable the process. 
We are super happy with this new situation. Navigraph has been a very reliable AIRAC provider and we were using one of there free AIRACS from day one of FSXPilot development. 
Please be aware of the fact that a new AIRAC will overwrite the old one without notice! So if you have made manual changes in the AIRACS, please make backups first. 
Thank you, Richard Stefan vom Navigraph, for your continuous support.  
 

Hi again 
We published a minor update today. It essentially brings a better and more versatile EFIS for the future and some more bug repairs!
And we have our own HTML based software manual now always available in the bar right -> and from FSXPilots Help menu. 
Happy landings  
Merry Christmas and Happy Holidays! 
Between the years we are working on a minor update. In addition, we have test flown the marvelous Flight Factor A320. 
 Wishing you all the best for 2019 and always happy landings with FSXPilot. 
Seasons Greetings!
FSXPilot PRO version now available for free download!
Today we have made FSXPilot PRO available for free download. The current version number is V 2.8. 
There will be an automatic update if you have FSXPilot installed. The installer (download section) is updated to V 2.8.   
Benefits:
Program feature
 FSXPilot PRO 
 
 
Circle in thermals
yes
Circle around GPS targets
yes
Slope soaring with GPS targets
yes
Drop waypoints, commute, flightseeing
yes
Automatically update HDG, IAS, V/S and ALT (AP panel) 
in the cockpit of the aircraft 
yes
Set COM1, NAV1, ADF and XPNDR frequencies 
directly from the AP panel
yes
Manage aircraft database within FSXPilot (-> Aircaft options) 
yes
No need to modify aircraft data in fsxpilot.ini
yes
FSXPilot view system
yes
Fly to GPS coordinates - the easy way (exclusive dialog box) 
yes
Aircraft library: Define default climb rates below and above 15000 ft
yes
Aircraft library: Define service ceiling
yes
Aircraft library: Define maxbank / maxpitch values 
individually for each ac
yes
Aircraft library: Define final flaps position -> 
auto landing for each ac
yes
Current target display (ETA,ETE) on EFIS
 
PDF documentation (download section) 
yes
CHM documention (windows help file) 
yes
Take screenshot from windows taskbar
yes
Take screenshot hotkey
yes
CTRL key + HDG button -> set current heading
yes
SHIFT key + HDG button -> set current heading + 180
yes
Hide / Show hotbuttons for AP and EFIS panel
yes
Program skins
yes
Enjoy.  
Next decision made  
There will be NO FSXPilot open source project in the foreseeable future. We just did not get enough feedback from you guys interested to maintain the code.
PRO will be integrated in the Shareware version on October 1st 2018, so there will be a massive one time usability boost for the shareware users, but progression from here will be very slow. Unfortunately, support will have to be reduced, too. Please do no longer expect immediate E-Mail reactions after Oct 1st. We will integrate a Donate button for the server to keep running. We have secured server operation until October 1st 2019.
Greetings   

FSXPilot works with P3D 4.3  
We have just tested the latest version of P3D (4.3) and FSXPilot. No changes, seems to work fine. 
Reminder 1: If you want to hide FSXPilot windows completely, please just click on the FSXPilot icon in the taskbar. Clicking a second time will make the windows appear again. 
Reminder 2: DO NOT adjust graphics settings or other flightsim parameters during a FSXPilot session. Always close FSXP completely, make your full  adjustments in the flightsim, then better restart FSX, P3D or X-Plane, finally restart FSXPilot. Fly.  

No paid Ad  - X-Plane 11 and XEnviro ...  
... the best flightsim combination we have ever flown. Fullstop.  

EU Law disclaimer  
We have deleted all personal data from PRO users in our database. During website registration, we only store your freely chosen username and your E-Mail address. During your FSXPilot flight session, your IP address gets monitored in order to distinguish the pilots on the statistics page. Do not start or install FSXPilot if you do not agree. 


FSXPilot now supports 4K monitors  
June 2018: We have published an update which allows scaling the AP and the EFIS panel with resizing the fonts of text and buttons. This allows operating FXXPilot on high-resolution displays.
Enjoy.
Aircraft library and FSXPilot shareware  
If you work with FSXPilot shareware and want to edit your aircraft library the old fashioned way via fspilot.ini, you can do so but must rename or remove the file aircraft.ini from your FSXPilot home directory. We will take care of the conversion of that aircraft data into aircraft.ini when we switch PRO to freeware in October. 


Decision on the future of FSXPilot PRO  
Munich, April 29th 2018
After another long thought :-) the final decision on the future of FSXPilot PRO has been made. Due to new personal duties, many new projects in my real life job and lack of time for support and new developments FSXPilot PRO will now definitely turn freeware on October 1st 2018. This means: Shareware users can expect a huge functional update in October. 
The transition from PRO to freeware will be in October. Please refrain from sending emails "I want it earlier" "Where can I get it earlier". we will not make one exception. 
The last registration (yesterday) has been refunded. 
FSXPilot PRO Paypal purchase has been stopped today. The FSXPilot android app has been removed from the play store. 
Please do not expect any updates (only relevant bug repairs) until October. 
Our website content will be updated with these new details during the next months. 
It has been an honor flying PRO with you. 
Best personal regards 
rudolf 
Thank you  
Our recent FSXPilot stats revealed that you guys increasingly use FSXPilot in FSX and X-PLANE. Today we want to say a big thank you. We added the TOP 100  "longest flights ever" and "longest distance ever" script to our stats page. Absolutely amazing data there. Some of you have used FSXPilot in long distance flights over the period of several days :-) Is this a data bug ? If not - true devotion. Anybody wants to send a report ?  
X-PLANE joystick sensitivity 
We recently stumbled upon an interesting post concerning the X-PLANE joystick sensitivity, which has been quite annoying from time to time and has been a major X-PLANE criticism. 
The guys from pilotworkshop.com quoted a study from the past, in which a "great to fly" aircraft was defined as one that has a pitch - roll - yaw relation of 2:1:4. They recommended (X-PLANE joystick options -> control sensitivity)  a setting of pitch 20%, roll 10%, yaw 40% (left sliders) and pitch 5%, roll 5% and yaw 0% (right sliders, augmentation). This works amazingly well so we wanted to share this. For more details please go https://www.pilotworkshop.com/getting-started-flight-simulation-2 and scroll down to the video "Sample 2: Making it feel real". 
One last word: 2017 has been an amazing year for the FSXPilot / FSIMPilot. After declaring FSXP dead, then full reanimation, we now support X-PLANE and think that the hard decision to implement this into our universal autopilot was a very good one. We enjoy X-PLANE 11 every day. 
Now it is time to whish you a Merry Christmas and all the best for 2018. A small update will be published between the years with a little, but useful gift for PRO users. 
Stay tuned ...
 
 
PRO System update (2.06) has been published !
We have just published the next PRO update. In this update, we implemented a "V/S to airport" indication on the EFIS when the airport is selected as target and NAV button pressed. This displays the approximate negative V/S that is needed to reach the airfield 1000 ft above ground, taking into account the current altitude, ground speed and time to reach the target. Great for planning your exact descents. If you plan to descend with -1000 ft/min, wait until this value is displayed, then start your descent.  
For all versions (will be included in next shareware update): 
X-PLANE plugin: "cannot read reg key" error message during the first time uses removed
CTRL + SPACE (stabilizer) in helicopters now holds altitude
System update (2.74 and 2.04) is published ! 
The update will install automatically and contains:
FSX Ground altitude bug removed - simconnect did not deliver correct ground altitude (thanks Tommy) 
New commands and quickselect menu entries (all simulators), useful for propeller aircraft:  

"fly short ilslanding"
"fly ultrashort ilslanding" 

New command version: "update airac" for X-PLANE (still beta, use with care, will be updated over time, make backups of rwy.txt) 

uses apt.dat file and earth_nav.dat file (copy both to FSXPilot home dir before running "update airac") 
creates a file rwy_xplane.txt in which GPS positions of runways and  ILS frequencies are updated from the current X_PLANE installation  
for people who do not want to run "update airac": We have included a sample rwy AIRAC file for X_PLANE 11 (rwy_xplane.txt) 
rename to rwy.txt and copy over the file rwy.txt in the airac directory (please make backup of the original one) 
Result: Better X_PLANE autolanding accuracy

New ways to control display of NAV objects on EFIS display: 

CTRL+left click to EFIS: toggle fix display (old)
SHIFT+leftclick to EFIS: toggle airport display (old) 
SHIFT+CTRL+leftclick to EFIS: toggle other aircraft display (remove airctafts easily when too crowded, NEW) 
SHIFT+ALT+leftclick to EFIS: toggle VOR+NDB display (NEW)

New keyboard shortcut: CTRL+ALT+O aborts current automatic takeoff in fixed wing planes
ILS approach now available in quickselect menu when flying a helicopter, when runway in sight and close distance please press CTRL+O  and fly a manual landing 
Important system update released  (Version 2.73 and 2.03)
Today we have published a new program version (will autoupdate in both shareware and PRO version).
FSX and X-Plane pilots can now enjoy a new autolanding routine, which simulates a VFR lefthand or righthand traffic pattern on every known runway. This is suitable mainly for light propeller aircraft and adds a realistic "Platzrunde" 1000 ft above the runway. Do NOT use this with jets ! In addition, we investigated instabilities during X-Plane operation and found, that under certain condition the latency between the XPL plugin and FSXpilot was way too high. This problem is now solved and X-PLANE operation is now dead stable (tested during long distance flights).  Latency is constantly between 100 and 200 ms (see plugin debug window). Furthermore, we analysed X-PLANE landings and implemented a direct control of "flare" and "throttle zero" altitudes which now results in smoother landings. You may need to readjust your aircraft parameters, though. Finally, much effort was invested to remove taxi errors during autotakeoff and -landings. However, it showed that taxi in X-PLANE is not yet realistic (do not believe the forum "experts") and even more, buggy and hypersensitive in X-PLANE 11. So it was decided to implement an interim solution:  a "taxi ctrl ON" and taxi ctrl OFF" button in the plugin, which allows your hand taxi during autolanding and autotakeoffs. The button will remain until the creators of X-PLANE offer a better taxi solution. 
All free for you, pilots. Enjoy.  
New X-PLANE 10 and 11 support article available  
The article can be found here.
X-PLANE 10 and 11 version now available for early access download  
Today we are inviting you to download and test the latest version of FSXPilot, which supports X-PLANE 10 and 11. Version 2.7 can be used with X-PLANE 10 or 11 AND ALL FSX versions that have been supported in the past. Included in the download is our brand new X-PLANE plugin, which controls the interaction between X-PLANE and FSXPilot. All you have to do is: 
Download and install FSXPilot V 2.7 (go to download section)  
Copy the Folder "XPLPilot" from the folder "X-PLANE 10 and 11 Plugin" into the folder "plugins" which can be found in  "Resources" of the X-PLANE home directory. 
Start X-PLANE
Select XPLPilot -> Panel from the X_PLANE Plugins menu
On the panel, "find" FSXPilot.exe by using the resp. button
Start FSXPilot ONLY by using the resp button on the plugin panel
Use FSXPilot as always 
This early release version will be updated soon. If you find bugs please report them. We will publish instruction videos for the FSXP X-PLANE version in the near future.
PRO users will remain supported and can use their registration numbers to unlock this new X-PLANE version free of charge.  
Thank you, Hans Bonde from Denmak, for your X-PLANE beta testing.  
Available for Flight Sim World Testing ?  
Dovetail's 64 bit "Flight Sim World" is out now and can be purchased "early access" via Steam. Looks promising. As the simulation is technically based on a 64 bit FSX and Simconnect is available for FSW, we would be interested to know if any of you guys were already able to successfully use FSXPilot in FSW. The first three conclusive reports (installation HOWTO and test flight) will receive a free FSXPilot PRO version key. 
Thanks for your help. 
Short Test Ride FSXPilot and P3D V 4 
Because of an angry mail that reached us these days we decided, although initially not intended, to grab a copy of P3D V4 and test functionality of FSXPilot. We can now confirm that FSXPilot works great with 64 bit PREPAR3D V 4. In our test setting, we had FSX Steam version (and X-PLANE 11) installed, of course we had FSXPilot installed too. Then we added Prepare3D V 4 and after a rather short installation process we powered up a Beech King Air 350 and flew a pleasant test ride with flawless GPS autolanding - without any additional action. 
Situations may be a bit different in P3D V4 standalone installations. Here, you must install Simconnect from your P3D home directory (...\Lockheed Martin\Prepar3D v4\redist\Interface\FSX-SP2-XPACK) before FSXPilot. Then install FSXPilot. Please also use the XPACK  version of simconnect.dll (all available versions are contained in FSXPilot subfolder "Simconnect - alternate versions"). Copy the simconnect.dll from XPACK version to FSXPilot home dir.
In case you have any additional observations/bugs/tips concerning operation or installation of FSXPilot with P3D V4 please drop us a line. 

One last remark: We cannot carry everybody to flightsim heaven personally and instantly. In case something does not work as expected, please always try to solve the problem first by reading all FAQ, support articles and use your brillant IT skills to optimize the chain simulator <-> API (Simconnect) <-> FSXPilot. In case of requests please resist from writing one line emails, be friendly, add your name, inform us whether you are a PRO user and provide as much information of your system (and the problem) as possible. In the end, in 99% of cases things will work. 
Now we will go flying :-) 
FSXPilot works in P3D V 4
Today we were notified that FSXPilot works "very very well" with PREPAR3D V 4. Thank you, Hans, for testing that out :-)   


New program update  !

Today on Feb 24th 2017 a new update was published for the shareware and the PRO version. FSXPilot can now fly radials TO and FROM NAV targets. In addition, we added the ability to follow airways. Simply type (in the area of Munich, EDDM) "fly awy T702 BADIT" into the command input box to make FSXPilot turn the plane into the nearest waypoint of the T702 airway, then follow the airway until BADIT. From here, FSXPilot will remain on present heading. 
Thanks, Zack, for your input !
In PRO version, the users received another additional bonus: Just use the mouse wheel on the EFIS window to quickly zoom in and out the FSX view (f.e. close instrument view). Pressing the middle mouse button and move the mouse on the EFIS panel will quickly pan the FSX view to a new location (f.e. quick left and right). 
Thank you, registered users, for supporting our project. And - we received a lot of positive feedback recently - thanks a lot !
Google earth 3D live camera now available via FSXPilot !

September 14th 2016: You requested, we implemented it. Now you can continuously check your exact GPS position inflight by calling a live camera view in Google Earth. Please follow these steps:
Automatically update to Shareware version 2.58 or PRO 1.18
Install google earth
Start FSX, load a plane, start FSXPilot, takeoff
Select "Write pos. every 4 sec" from FSXPilot AP panel "Google earth" menu
Activate the KML file  "flyto_position_every_4s.kml" in FSXPilot's main directory or from your desktop. 
End of session: Always discard the google earth view. 
After a few seconds, Google Earth will magically zoom to the position of your plane and follow the plane throughout the entire session. A beautiful 3D experience  .... and extremely helpful in areas you do not know,  bad weather or at night. 
Btw: free for all. Enjoy !
Fly the Harrier with FSXPilot !
June 26th 2016: Can you fly a Harrier with FSXPilot ? We recently thought - no ! But, to our surprise, the UKMIL harriers hover well with FSXPilot in helicopter mode. There are some tricks needed, so we made a support video.
https://www.youtube.com/watch?v=Lq0vRaiMXy0
Enjoy hovering the Harrier. 
Landing precision on STATS page
June 18th 2016: We have modified the STATS pages. Landing offsets in meters are now precise and landing LAT/LON is given. Have fun training your landing skills.
EFIS click targets reconditioned!
May 27th 2016: Old feature, newly designed: Expect more and ultimately precise click targets on the EFIS in the next update 1.13. How many ? Shareware: five. PRO: unlimited !
Watch preview and howto here:  click
New self refreshing page for mobile phones
May 13th 2016: We do now have the self refreshing page for mobile phones or tablets. And the stats pages received links to OpenStreetMap and SkyVector. Now nothings speaks against going for a long walk with your dog and keeping an eye on your current flight.    
http://www.fsxpilot.com/scripts/mobile.php
Check your flights online !
May 11th 2016: The FSXPilot statistics page is now available in the first beta version. Check your flight progress online, compare your sessions, takeoffs and landings and compete with the community for the best. 
Stay tuned for more to come !
New program update and good news  !
May 10th 2016: We have published a free update for Shareware and PRO version. Automatic spoilers on runway during touchdown and a new spoiler and reverse thrust ARM button for your manual landings are included. Helicopter autolandings can now be shortened by operating the "TR+" button. 
And - we are preparing enhanced telemetry which, in the end,  will enable
logging your aircraft over the internet - from anywhere
landing and takeoff analysis
certified missions
For that please excuse that we might need to push several updates within the next weeks or so.   

Coming up next: Gliders !
April 7th 2016: Update 1.08 for FSXPilot PRO published !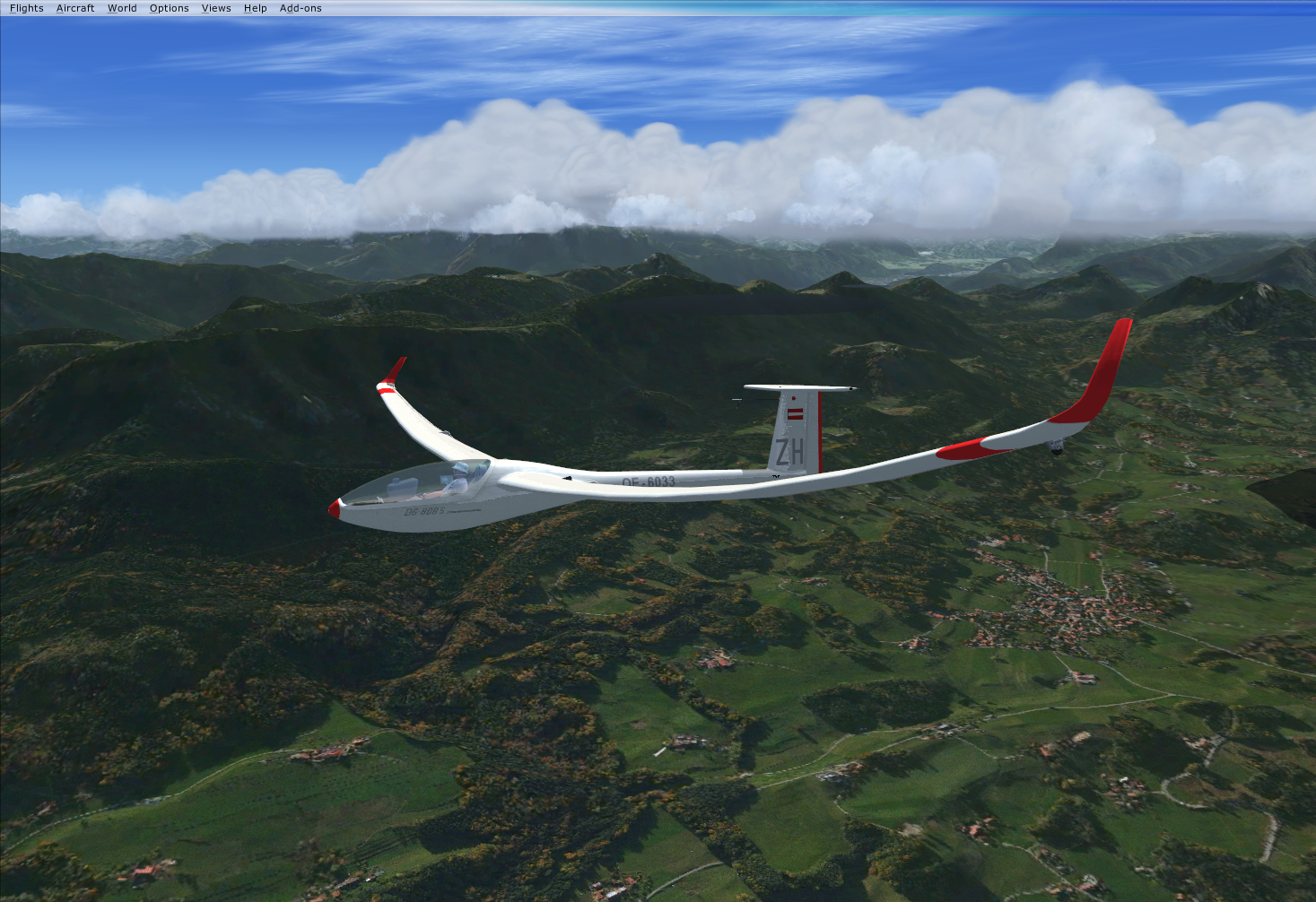 That is what is coming up:  
Expect some video previews the next days. 
Memory usage is logged in session_dbg.txt
Model ID now fully displayed on aircraft option panel
AP command input box now always resized to AP panel borders during program startup  
'Nosekick' down after take-off (some fixed wings) removed
FSX sailplane (gliders, hang gliders, paragliders) can now operated with FSXPilot
Circle right/left implemented
Circle flat/steep implemented
Glider (or aircraft with engine not running) speed control implemented: Pressing SPD adjusts desired speed by pitch alteration
PRO: 'Circle target' implented: Circles a glider or light aircraft in the area of a given NAV target
PRO: 'Circle thermal' implemented: Fly a glider into a thermal and FSXPilot tries to center the area with the highest climb
PRO: 'Commute between GPS waypoints' implemented: New ability to automatically commute between 2 or more GPS waypoints forever (ridge soaring) 
PRO: CTRL + HDG button now immediately sets the current heading
PRO: SHIFT + HDG button now sets current heading + 180 degrees (inverse course) 
Glider now does not crash the FSXPilot app (fuel zero capacity bug) 
FSXPilot notify icon now gets reliably removed when program exits
Long-awaited new version 1.3 of Android App is out ! 
Together with two automatic updates for both shareware (2.45)  and PRO version (1.07), our FSXPilot Android App version 1.3 has been published on Google Play store.
In short, this version features the ability to simulate (mock , spoof)  the GPS of your Android phone or tablet with the GPS coordinates of your FSX or P3D aircraft. This way, you will be able to use Google Maps or Google Earth on your phone to display the current location of your aircraft and use any of their location based services. In addition, this opens the world of Android moving maps, aviation apps, track recorders and flight chart apps for you.  Use any of those as if you were sitting in a real plane with real GPS coordinates.  The image below shows XCSoar (example of great freeware) on Android connected to FSX SE via FSXPilot (desktop) and our FSXPilot app.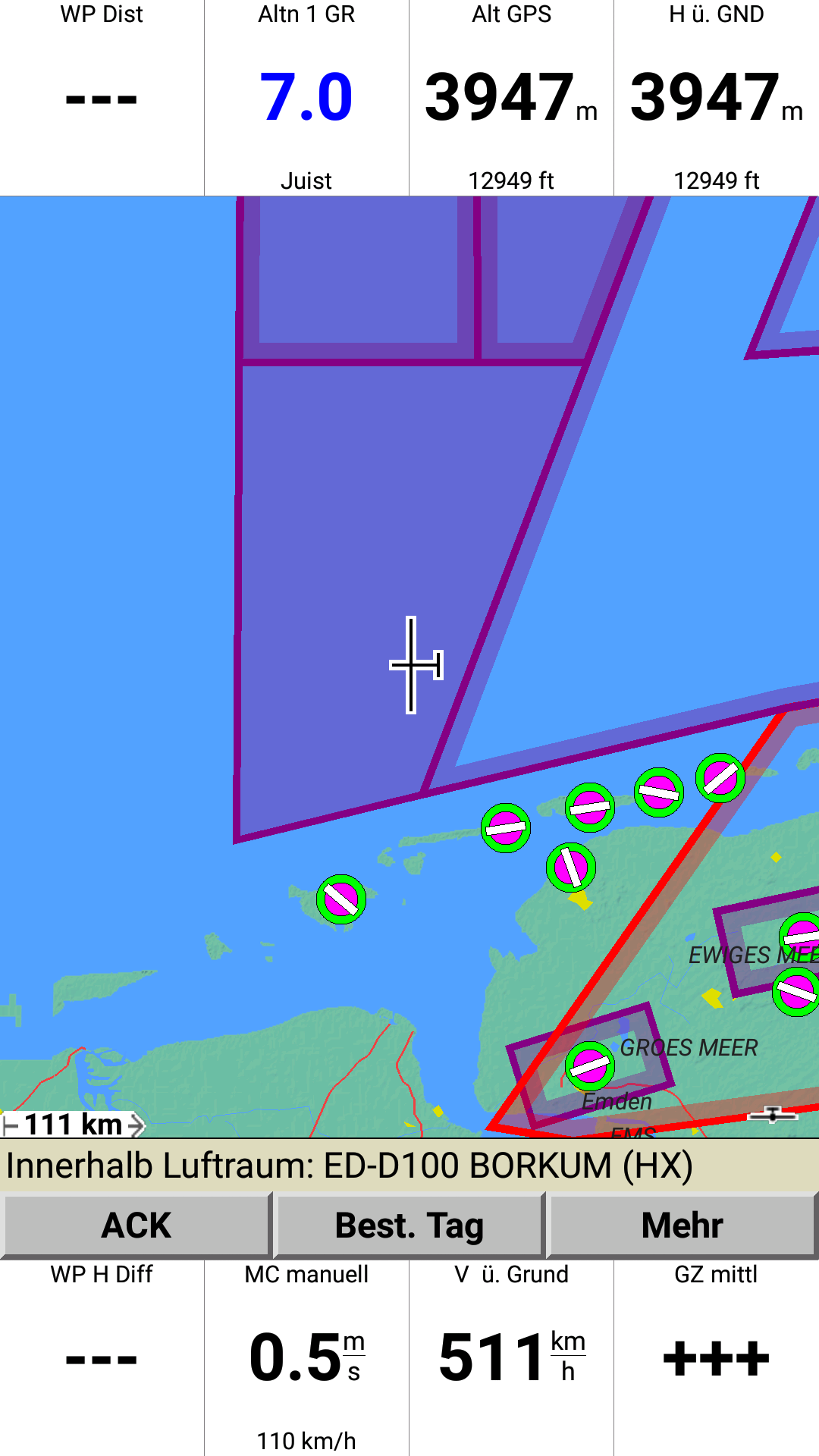 Apart from that, several enhancements have been implemented. The possibilities are endless. The 1.3 update is free and does not require PRO. Enjoy ! 


New versions for PRO and shareware ... 
Automatic updates for both shareware (2.42)  and PRO version (1.04) have just been published. We removed a bug in SID procedures (double blue lines) and restored the missing Server IP display during startup. PRO users are now able to define specific Maxbank and Maxpitch values for each entry in the aircraft database. All users get a nice little feature: The currently locked target is displayed on the EFIS in lightblue together with distance, ETE and ETA. 
Enjoy !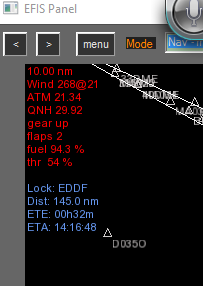 New versions for PRO and shareware ... 
Automatic updates for both shareware (2.41)  and PRO version (1.03) have been just published. Baro pressures are now shown in inHg or in hPa depending on a new check mark in 'General options'. We have three new short demo flight plans and better speed and flap management during ILS and GPS auto landings. In short, you are now able to 'overrule' FSXPilot during the approach: If you set speed lower or flaps higher than in FSXPilot standard settings, FSXPilot will not set back flaps or speed.  Great solution to gradually bleed off speed during approaches with difficult planes. 
We have a new support article: How to use the exec command (PRO) and how to control every aspect of an ILS approach
In addition, PRO users get a free exclusive menu entry and dialog box for input of GPS coordinates (AP menu -> 'Extras' -> 'Fly/taxi GPS ...')  with instant waypoint saving and follow up navigation: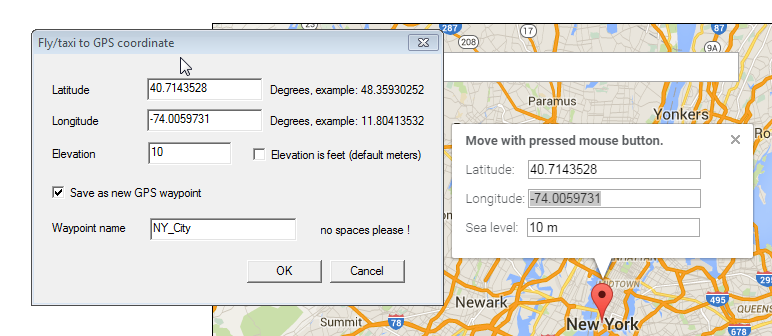 Simply enter your LAT and LON coordinates and altitude, press 'Ok', and off you fly to any GEO location around the world. 
FSXPilot PRO has landed ! 
Universal autopilot and FMC with "auto-landing wherever you want" functionalities in FSX, FSX-Steam, and P3D, different skins, a view system with DHM plus a co-pilot voice recognition experience, a basic flying school for fixed wing and helos, and much more for the price of a standard flight planner ? Finally there !
Today we are excited to announce the launch of the FSXPilot PRO version. Enjoy the new view system, create skins and comfortably manage your aircraft database. In addition, a Windows Help File to be used from the AP Panel is included. Be the first to receive exclusive functions and keep the fire burning in our development studio. Please visit the purchase page and grab your serial, which will entitle you to use FSXPilot PRO on three different computers.
And we can finally tell the secret of the additional bonus function in PRO: We have a new exclusive flightplan command (exec) that enables to execute Windows Shell Commends directly from a flightplan. So call the web browser, Excel, Word, or a PDF chart (with page and zoom reference) automatically during different flight situations. Go to the support article How to use the exec command (PRO) and how to control every aspect of an ILS approach to see how to do that. 
So please install the shareware version first, then Purchase FSXPilot PRO, receive your serial via email and go flying .....



"FSXPilot - The Manual" is available !
   
    We are happy to report that our new PDF manual is ready for takeoff . 
All registered website users can download the free manual in our download section. Enjoy !
PRO version countdown starts ....
We are happy to announce that FSXPilot PRO will be ready for registration in a few days. The release date will be March 7th 2016. Until then, please register a free account on our homepage and download and install FSXPilot Shareware 2.4. The PRO version will be generated on your computer from the shareware version. 
In addition, we will have an interesting BONUS function in PRO that has not been rumored to the community yet. Please stay tuned ;-)  

User registration is online  !
The user registration of this website has gone online. Registration is easy and only requires 2 steps. After you have validated your email you can then log in.
The download of the FSXPilot Shareware and PRO version and upcoming benefits (getting documentation) are only possible after registration.  


Version 2.4 is available !
Today we have published FSXPilot V 2.4.
This is a substantial shareware update with numerous improvements (see the full list here:  FSXPilot downloads (for FSX and P3D)). New initial splash screen, FTP update mechanism, 2 new hotkeys and much more. VE button (view effects) and "frequency set" buttons will be available (not disabled) in the PRO version. 
Enjoy.  
PS: Yesterdays update was initially distributed with a fspilot.ini that contained a PRO seriel key. This key no longer valid and the installer is now updated. If you want to get rid of the initial message please just delete the text after "RegNo=" in fspilot,ini. Thanks. 
Breaking News !

The past weeks have been very productive and we are glad to announce that there will be two brand new versions of FSXPilot out soon.
From now on, FSXPilot will exist in a shareware and a PRO Version. The shareware version will always be available for free.
Both shareware and PRO compile from the same source and development will be linked.
The PRO Version will include: 
A direct link between AP panel settings for CRS, IAS, MACH, HDG, V/S and ALT into the FSX cockpit 
The ability to fast-tune NAV1, COM1, ADF and XPNDR frequencies from the AP panel 
An enhanced FSXPilot aircraft database (incl aircraft option dialog)
New skins for FSXPilot
Our brand new FSXPilot view system (incl view option dialog) 
Free camera placement in the virtual cockpit and cabin (hotkeys) as well as in FSXPilot external view (spectacular wheel and wingtip views)  
Implementation of Dynamic Head Movements (DHM)
Complete documentation
Priority email support
The shareware version will include numerous enhancements.   
Users will soon be able to register on this website and purchase the PRO version. 
Version 2.3 is available !
FSXPilot, the universal autopilot for FSX, FSX Steam and P3D, is now available in version 2.3. 
Planned primarily to remove a touch and go bug (left deviation on runway after landings) there are plenty of new functions available. The feature list of 2.3 is as follows: 
Bug removed: no left deviation after landing during touch and go's (Thanks Tommy for the report) 

Helicopter hover: LAT error and LON error (EFIS) now show up in green if abs values are < 2.5 m

Helicopter hover : Sets v/s = 0 ft/min when final hover is reached 

Helicopter heading to target during "hover at xxx" and "land at xxx" now direct and more precise 

Precision of helicopter target vector land routine ("land at xxx") improved again (below 0.5-2 m) by
(1) Final descent during helicopter target vector land only starts if both LAT and LON offsets are < 2.5 m (green) for more than 10 seconds


(2) Higher hover altitude

User heading is automatically set from last targetbearing when helicopter enters hover mode

Pressing SPD button during helicopter hover now correctly exits hover mode 

New: A vertical takeoff for helicopters is now available in qselect menu (Thanks me)

New: flightplan command "run takeoff vertical"

Save GPS waypoint dialog window now top

"Hover here" now present in quickselect also without target 

"gear down" or "gear up" only performed by Anna if gear is retractable

New: Flightplan and live command "set brake power <num>" where <num> is brake power in percent 
BTW: Brake problems with your F18 hornet on ground ? No FSXPilot issue. See the new FAQ entry. 
Enjoy. 
Version 2.1 
FSXPilot supports standard instrument departures (SID) and standard terminal arrival routes (STAR). In cooperation with Navigraph we were able to provide a more recent AIRAC (1502) including the SID and STAR data. Fly the professional routes from and to your favorite departure and destination airports. Select SID's effectively according to their departure direction and STAR's according to the distance of your aircraft relative to the first STAR waypoint. Include SID's and STAR's in your flightplans. Graphically depict STAR's and SID's on the EFIS.  2.0 further enables to switch to 'next tracking target' by a new EFIS button. Select near user defined GPS targets from the quickselect menu on the fly (thanks Steve for the idea). Save user defined GPS targets from the quickselect menu.
The new version has been heavily tested. This update is a major rewrite, both internally and functionally. Please always install in a new directory, to be able to roll back if necessary. And - please watch the YouTube videos. They are great to learn the necessary functions. watch them now
And now let's go flying.
---


FSXPilot 2.0  contains an AIRAC (courtesy of Navigraph) that is several cycles behind. If you need to update your AIRAC, get the latest cycle from Navigraph. Make sure you purchase the PSS version. A Howto will be in the support section shortly.  
---
FSXPilot is the world's leading and most versatile autopilot for fixed wing aircraft and helicopters in flight simulation. 
This program was started in Orbiter Space Simulation and later ported to the Microsoft Flight Simulator. FSXPilot also works great in Prepar3D, even in the brand new version 2. Especially for you P3D users we have recently (1.37) added support for "the beast" Raptor F22 :-)  Currently, we develop for FSX/Prepar3D only, but there are still (old and limited) versions for FS9 available for download. 
FSXPilot is freeware. Be warned: After you've learned FSXPilot, you will be able to fly them all and won't go without it ...
After the install, FSXPilot will open in two separate windows on your desktop screen. The main window is for autopilot control, the EFIS window is for navigation. The best way to use FSXPilot is to start  FSX (windowed mode only) and later start FSXPilot with it's two separate windows. You can position the FSXpilot windows on your screen wherever you want and save this position as your default. If FSX is in windowed mode you might experience a "stop" of the flight simulator when you click another window on your screen. This "stop" can be switched off in FSX options.  FSX full screen and FSXPilot is only possible if you have two monitors attached to your computer. 
---

FSXPilot version 1.50 is finally available and supports Windows Speech output and speech recognition. 
Please check out the Speech recognition support file for more information.
It is advisable to use a good headset. Please enable speech recognition in your Windows 7, Vista or 8 system and do some basic speech training with the US English WSR version !   
---
 

Our brand new android version is out. Please Check the play store.  
FSXPilot for android  unpacks the whole power of the FSXPilot project on your phone device. Input things and waypoint control are done on your phone / tablet, the rest is performed by the extremely powerful FSXP standard software on your flightsim computer. 
With FSXPilot for android, you have a versatile and clever new flighsim controller on your android phone or tablet. Also great stuff for reactivating your old phone. Possibilities of operation are endless. Plan your sightseeing flights with real world landmarks on google map - simply tapping your waypoints onto the screen and follw the plane turning into the new headings. Break all kinds of records by long distance flights controlled over your phone - why not fly around the world ? Try ground taxi on a system with P3D installed and you will be absolutely amazed. Send all kinds of inflight commands to your aircraft - flight level , speed and heading changes, holding commands, GPS- or ILS auto land commands. Even turn your engines off / on via the phone and release the wheel brakes.    
Play time again !